When I was first working in OB as a Registered Nurse, I got introduced to Lindsay Brin's blog and Moms into Fitness pre/postnatal information. A lot of my postpartum moms I was taking care of were looking for some great resources for getting back into shape after they were cleared by their doctors.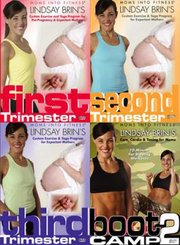 I was able to correspond with Lindsay and even got to work out with her mommy fitness group when I still lived in St. Louis. She is super sweet and helped me get started on my road to helping moms get healthy and fit.
I truly enjoyed her fitness for moms class and was very excited to try her pregnancy DVD series when I found out I was pregnant with this little guy!
I have been into health and fitness for most of my life, but during my first trimester I just couldn't get motivated. I did not want to leave the couch! So, I didn't do much of anything during those few months except try to do whatever I could to not feel so sick and tired. I knew that one of the best ways for more energy was to do something active, but it just didn't happen.
As soon as I hit my 2nd trimester, I was ready! Lindsay has 4 different DVDs in this pregnancy series. There is one for each trimester because the needs of functional fitness training changes with each stage of pregnancy. There is also a postnatal bootcamp that looks like a fun workout.
Since I am still in the 2nd trimester, I have yet to do the 3rd trimester or postnatal bootcamp so I can't review how those DVDs are for this series.
The 2nd trimester DVD has a cardio and toning segment as well as a yoga segment. If you buy the DVDs from Amazon, you will get them all together.
You can also buy this series from Target, but will not get the yoga with that package.
Cardio & Toning
The cardio and toning segment is combined and makes for a great 40 minute workout. Lindsay has a great personality and is very knowledgeable on functional exercises that are appropriate for each stage of pregnancy. Her recommendations follow very closely to the ACOG guidelines and all the research that has been done on exercising during pregnancy.
I really enjoy the toning! She targets all the major muscles groups that will come in handy the rest of pregnancy, during labor, and helping to take care of baby as a new mom. The cardio gets your heart rate up but gets super old after a few week of doing the DVD. It is a lot of side to side steps and marching. I miss my Turbokick and Insanity type workouts when it comes to cardio.
Overall, it is great for both women who have been regular exercisers and those who just want to be in shape for baby. She has plenty of modifications that will work for the full range of fitness levels. It is a solid pregnancy workout that is safe and effective!
Prenatal Yoga
For the yoga section, I don't have anything negative to say about this 20 minute workout. If you have done the more yoga workout type (different than the meditation type) before, you will recognize a lot of the moves.
If you are a beginner, you will catch on real quick and will not have any trouble completing this workout. Following along with the ACOG guidelines for workouts during pregnancy, Lindsay includes the stretching and balance poses that are functional for the pregnant woman. She excludes those that are not safe for pregnancy. I really enjoy this workout and feel so lean and refreshed afterwards.
What do I think?
Overall, Lindsay has put together a great DVD series for pregnancy and I highly recommend it. It is very good at providing function fitness that will help you throughout pregnancy and getting your body back afterwards.
With my studying of pre/postnatal fitness, Lindsay's DVDs are the ones I trust most for providing safe exercises for pregnancy. There have been quite a few pregnancy DVDs out there that have a few moves that I would not recommend be completed at certain stages.
Looking for a workout that any fitness level can complete that provides functional exercises that will help you for the remainder of your pregnancy and beyond? This is one series you will want in your workout library!
Summary
Why I love it: Safe exercises that give a great functional workout for each stage of pregnancy.
Where to get it: Amazon or Target
Also check out: What to Expect When you are Expecting- The Workout. I just received this DVD (released beginning of December 2012) and will be reviewing it shortly! Stay tuned!
Is there a Pregnancy Workout DVD or Book you highly recommend? What is your favorite workout? Leave a comment below.